Acronym
PUMP-III trial
Name of the study
Adjuvant hepatic arterial infusion pump chemotherapy after repeat hepatectomy for patients with liver confined recurrence of colorectal cancer – a phase II study
Researchers and contact information
Principal investigator:
Dr. D.J. Grünhagen
Trial coordinator:
Drs. W.F. Filipe
pump@erasmusmc.nl
Phone: +31 10 7042125
Website:
www.chemopomp.nl
Summary study
Rationale: Repeat hepatectomy has emerged as a viable therapy for recurrent CRLM showing comparable survival and morbidity as resection for index CRLM. Consequently, the number of patients undergoing repeat resections for recurrent CRLM is increasing over the years. This patient group has withstood the test of time for developing extrahepatic recurrences. Currently, no effective adjuvant treatment options are available for this patient population. Even after repeat hepatectomy for recurrent CRLM, half of the recurrences after resection of recurrent CRLM occur in the liver. Therefore optimal disease control within the liver may lead to improved progression-free survival and overall survival. Treatment with hepatic arterial infusion pump (HAIP) chemotherapy allows high dosage chemotherapy to be directed into the liver without the chemotherapy reaching other organs. A retrospective study including 363 patients treated in MSKCC and the Erasmus MC show that patients who have received adjuvant HAIP chemotherapy after repeat hepatectomy for CRLM had an hepatic disease frees survival (hDFS) of 50 months compared with 18 months in patients that received resection only (p=0.003). This translated to an overall survival (OS) of 89 and 57 months with and without adjuvant HAIP chemotherapy respectively (p=0.01).(12) Due to the retrospective nature of the studies, the results could be subjected to bias. However, such promising results deserve further research with a prospective study design.
Objective: The primary objective is to evaluate the efficacy of repeat hepatectomy and adjuvant HAIP chemotherapy in patients with recurrent resectable colorectal liver metastases.
Secondary objectives are DSF, OS, postoperative complications and adverse events during the treatment course
Study design: A multicenter phase II study
Study population: Adults with resectable recurrent CRLM without evidence extrahepatic disease (EHD) throughout the course of the disease.
Study design: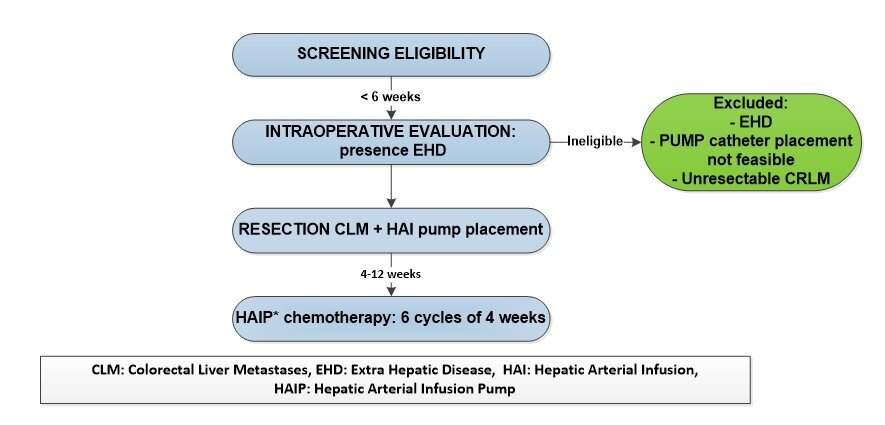 Intervention
Resection of recurrent CRLM. Patients receive an implantable pump placed during surgery for 6 cycles of adjuvant HAIP chemotherapy (floxuridine).
Main study parameters/endpoints: The primary endpoint is hepatic disease-free survival (DFS). Secondary endpoints include overall survival OS, DFS, postoperative complications and adverse events. Next, we aim to identify predictive biomarkers for the efficacy of HAIP chemotherapy.
Participating centers:
Erasmus MC, Rotterdam
Antoni van Leeuwenhoek
IJsselland Ziekenhuis