Acronym
PLCRC
Name of the study
Prospective Dutch CRC Cohort (PLCRC)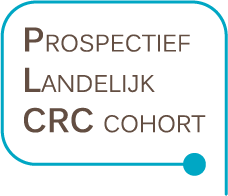 Researchers and contact information
Contact information project manager
Dr. G.R. Vink
IKNL
Godebaldkwartier 419
3511 DT Utrecht
06-15866038
g.vink@iknl.nl
Contact information coordinating investigator
Prof.dr. M. Koopman, Medisch Oncoloog
UMC Utrecht, Afdeling Medische Oncologie
Postbus 85500
3508 GA Utrecht
088 - 755 8528
m.koopman-6@umcutrecht.nl
Study team
06-46919566
Website
http://plcrc.nl/cohort/img/logo.png
Summary study
PLCRC is a population-based observational cohort study for all patients diagnosed with colorectal cancer (CRC) in the Netherlands. The aim is to establish a continuous source for a large variety of research purposes. For this project, data will prospectively be collected on tumor characteristics, pathology results, medical history, comorbidities, medication use, basic physical examination, imaging results, treatment, treatment outcomes, hospital stays, interventions and grade 3/4 (serious) adverse events.
Participating patients will be invited to complete validated questionnaires on self-reported Health Related Quality of Life (HRQoL) and work ability, and to donate blood and tumor tissue samples for future research purposes. This cohort of colorectal cancer patients will further be used for other (future) studies, for example studies to evaluate the impact of diet and lifestyle on treatment response, or to evaluate new treatment modalities according to the cohort multiple randomized controlled trial design.
PLCRC is supported by the Dutch Colorectal Cancer Group (DCCG) and collaborates with various organizations like the Netherlands comprehensive cancer organisation (IKNL), BBMRI, Profiles, and many others.
Intervention
Participating centers and contact information center/doctors
AMC
St Antonius Ziekenhuis
Deventer Ziekenhuis
Diakonessenhuis Utrecht
Erasmus MC
Ikazia Ziekenhuis
Meander Medisch Centrum
Ziekenhuis Rivierenland
Spaarne Gasthuis
UMC Utrecht
Zuyderland
Tergooi
Flevo Ziekenhuis
Elisabeth en TweeSteden Ziekenhuis
IJsselland Ziekenhuis
Franciscus Gasthuis & Vlietland
Treant Zorggroep
ISALA
Maastricht UMC
LUMC
Ziekenhuis St. Jansdal
NKI-AvL
Maasstad Ziekenhuis
OLVG
Rode Kruis Ziekenhuis
Albert Schweitzer Ziekenhuis
Reinier de Graaf Gasthuis
Catharina Ziekenhuis
Maastro
Haaglanden MC
Ziekenhuis Groep Twente
Hagaziekenhuis
Noordwest Ziekenhuis Groep
VUmc
Antonius Ziekenhuis, Sneek
Amphia Ziekenhuis
Admiraal de Ruyter Ziekenhuis
VieCuri MC
Wilhelmina Ziekenhuis, Assen
St. Jans Gasthuis
Rijnstate
Bravis Ziekenhuis
Radboud UMC
ZorgSaam
Maxima Medisch Centrum
Jeroen Bosch Ziekenhuis
Van Weel Bethesda Ziekenhuis
Alrijne Ziekenhuis
Saxenburgh Groep
Medisch Spectrum Twente
Ziekenhuis Gelderse Vallei
Bernhoven
Dijklander
Medisch Centrum Leeuwarden
Elkerliek Ziekenhuis
Martini Ziekenhuis