Acronym
LaNoReC
Name of the study
Lateral Nodal Recurrence in Rectal Cancer
Researchers and contact information
Lead investigator:
Dr. M. (Miranda) Kusters
Other principal investigators
Prof. dr. P.J. (Pieter) Tanis
Prof. dr. C.A.M. (Corrie) Marijnen
Coordinating investigators
Drs. T. (Tania) Sluckin
T: +31646921851
Drs. S.J.A. (Sanne) Hazen
T: +31613245771
Summary study
Rationale
Distal rectal cancers have a tendency to spread to lateral lymph nodes, especially in cT3/T4 rectal tumours. The lateral node study consortium conducted a retrospective multicentre study with a selection of 1216 patients with a cT3/T4 rectal tumour and found that patients with enlarged lateral lymph nodes (LLN) of ≥7mm have a considerable chance of local recurrence (19.5%) despite neoadjuvant treatment.
A second analysis, which included the patients with a restaging MRI after chemotherapy (CRT), showed that if the LLN declined to ≤4mm in the internal iliac compartment and ≤6mm in the obturator compartment, these patients did not develop a lateral local recurrence (LLR) in 3 years after the surgery. However, patients with persistently enlarged LLN have an extremely high risk of 52.3% of developing a LLR. A lateral lymph node dissection (LLND) lowers the rate of LLR considerably, but is a difficult surgical technique in which nerve sparing is essential to reduce morbidity. Moreover, it is suggested that radiotherapy target volumes are variable in lateral nodal disease and can differ between national hospitals.
It is therefore important to develop standardized radiotherapy regimens, so that enlarged LLNs receive adequate irradiation; this will possibly lead to more response and therefore a lower risk of LLR and less need of a LLND. In patients with insufficient response after CRT, a LLND seems to be effective to prevent LLR.
Primary objective
To decrease the LLR rate by introducing standardized radiotherapy protocols and selective LLND with nerve-sparing techniques. The quality of life of patients will also be evaluated.
Study design
National prospective registration study
Study population
All patients with rectal cancer and one or more enlarged lateral lymph node(s) (a short axis ≥7mm) in the internal iliac or obturator compartment measured on the initial MRI, will be included. Exclusion criteria are patients younger than 18 years old, previous pelvic irradiation, a previous lateral lymph node dissection for a pelvic malignancy, synchronous metastases, synchronous colon cancer with a higher stage than the rectal cancer, other malignancies in the previous 3 years which could influence oncological outcomes (these patients need to be discussed with the research team before inclusion), an absolute contraindication for general anaesthesia, pregnancy or familiar adenomatous polyposis (FAP).
Primary endpoint
Lateral local recurrence free survival after 3 years
Secondary endpoint
Morbidity, disease free survival, overall survival and quality of life
Sample size
The sample size is based on the 3-year lateral local recurrence rate of 15.6% in low cT3/4 rectal cancers with nodes of ≥7mm after CRT + TME only (without LLND). This data is based on the multicentre Lateral Node Study.
The hypothesis is that this rate can be reduced to 5.7% with adequate CRT + TME + LLND. With a significance level of 0.05, power of 80% and a drop-out rate of 5%; 157 patients are needed for a 1:1 historical- to treatment-ratio
Intervention
Initial MRI images are uploaded to be peer reviewed when at least one enlarged lateral lymph node (≥7mm) is suspected by the local radiologist.
Patients will receive a predetermined standardised (C)RT protocol and if the lateral lymph nodes have insufficient response on the restaging MRI (>4mm in internal iliac compartment or > 6 mm in obturator compartment), patients will be offered a LLND and if necessary, referred to a tertiary centre for the procedure. If patients have a clinical complete response (cCR), patients can be included into a Watch & Wait follow-up protocol.
This is a prospective registration study. Therefore, patients will receive the normal standard protocol of care as they would outside of the study. The indicated surgical treatments are offered to the patients but not compulsory.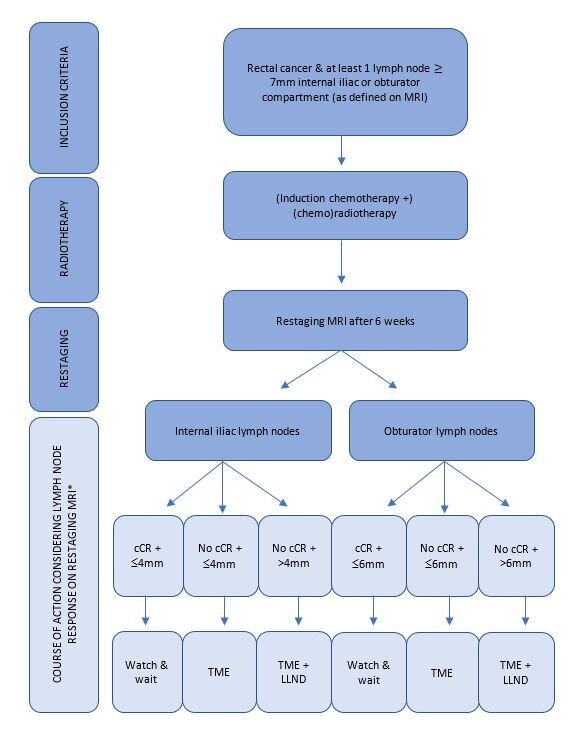 cCR = complete clinical response
TME = total mesorectal excision
LLND = lateral lymph node dissection
Participating centres
Amsterdam UMC, locatie VUmc, Amsterdam
Antoni van Leeuwenhoek Ziekenhuis, Amsterdam
More participating centres will follow