Acronym
DOSAGE
Name of the study
A multicenter randomized phase III trial of upfront DOSe-reduced Chemotherapy for Advanced Colorectal Cancer in Elderly patients
Researchers and contact information
Principal investigator:
Dr. N.A. de Glas
Trial coordinator:
Clinical Research Center, LUMC
clinicalresearchcenter@lumc.nl
Summary study
Treating older adults with chemotherapy remains a challenge, as older patients are underrepresented in clinical trials that investigate novel treatment modalities and currently no robust guidelines for treating older patients exist. Moreover, they are at increased risk of chemotherapy-related toxicity due to impaired renal or hepatic function, myelosuppression or poor functional status, which might result in early treatment discontinuation or hospital admissions.

Upfront dose reduction may improve tolerability of chemotherapy in older adults. Therefore, this phase III open label trial will investigate whether upfront dose-reduced chemotherapy is non-inferior to full-dose chemotherapy in older patients (≥70) with metastatic CRC with regard to progression-free survival (PFS), stratified for expected risk of toxicity.
Ultimately, 597 patients (meaning 298 patients per stratification arm) will be included. The primary endpoint is PFS. Secondary endpoints are grade ≥3 toxicity, number of treatment cycles, dose reductions during treatment, cumulative received dose (adjusted for BSA), hospital admissions, QoL and physical functioning, OS and cost-effectiveness.
Patients who are not participating for any reason can be registered after informed consent in an observational study arm to extend the study database with extra information on this relevant topic.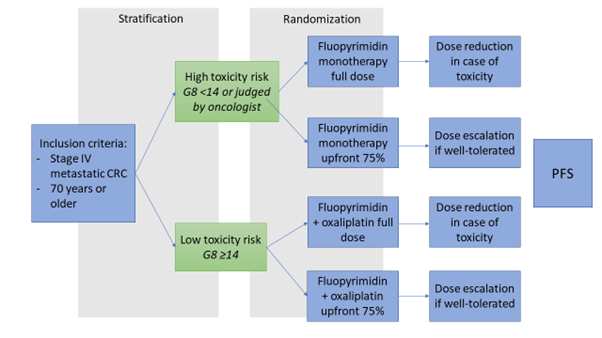 Intervention
Before treatment initiation, all patients will undergo geriatric screening by a Geriatric-8 (G8) and will be classified as "low risk of toxicity" (G8-score of 14 or higher) or "high risk of toxicity" (G8-score of 13 or lower or judged as "high risk" by treating oncologist). This stratification is justified by previous studies which showed that older adults with an impaired Geriatric-8 (G8) score, are more likely to experience severe chemotherapy-related toxicity compared to those with a normal G8 score.
Patients classified as "low risk of toxicity" will be randomized between combination treatment of a fluoropyrimidine and oxaliplatin in either full-dose, or with an upfront 25% reduction. Patients classified as "high risk of toxicity" will be randomized between monotherapy with a fluoropyrimidine (physicians' choice between 5-FU or capecitabin) in either full-dose or upfront 25% reduction
Participating centers (We would really like to welcome other centers for participation. Anyone who would like to participate, please do not hesitate to contact N.A.de_Glas@lumc.nl)
LUMC
Hagaziekenhuis
Haaglanden MC
Groene Hart Ziekenhuis
LangeLand Ziekenhuis
Alrijne Ziekenhuis
Reinier de Graaf Gasthuis