Acronym
CAIRO 6
Name of the study
Perioperative systemic therapy and surgery versus upfront surgery alone for resectable colorectal peritoneal metastases: a randomised controlled trial.
Researchers and contact information
Researchers and contact information
Lead investigator:
Dr. I.H.J.T. (Ignace) de Hingh
E: ignace.d.hingh@catharinaziekenhuis.nl


Other principal investigators
Dr. P.J. (Pieter) Tanis
E: p.j.tanis@amc.uva.nl
Prof. dr. C.J.A. (Kees) Punt
E: c.punt@amc.uva.nl
Drs. P.H.J. (Patrick) Hemmer
E: p.h.j.hemmer@umcg.nl
Trial statistician
Dr. M.G.W. (Marcel) Dijkgraaf
E: m.g.dijkgraaf@amc.uva.nl
Coordinating investigator
Drs. K.P.B. (Koen) Rovers
Research Heelkunde, Postbus 1350, 5602 ZA, Eindhoven
E: Koen.rovers@catharinaziekenhuis.nl
CAIRO6 phone: +31658729079

Summary study
Rationale: In the absence of randomised studies, there is a worldwide controversy on the clinical benefit of perioperative systemic therapy in patients with colorectal peritoneal metastases who are candidate for cytoreductive surgery with hyperthermic intraperitoneal chemotherapy (CRS & HIPEC).
Primary objective: To compare the prognosis of patients who receive perioperative systemic therapy and CRS & HIPEC versus CRS & HIPEC alone.
Study design: This is a prospective, multicenter, randomised, parallel group, phase II-III study that randomizes patients with resectable colorectal peritoneal metastases to perioperative systemic therapy and CRS & HIPEC (experimental arm) or upfront CRS & HIPEC alone (control arm). The study starts as a randomized phase II study (n=80) in order to investigate the safety of perioperative systemic therapy in this setting.
Study population: Patients with non-signet ring cell colorectal cancer with histologically proven peritoneal metastases without systemic metastases, in whom a complete cytoreduction seems achievable.
Primary endpoints – phase II: Primary endpoints are major postoperative complications and the number of complete cytoreductions.
Primary and secondary endpoints – phase III: The primary endpoint is 3-year overall survival. Secondary endpoints are 5-year overall survival, 1- and 3-year progression-free survival, number of complete cytoreductions, CRS & HIPEC related characteristics (e.g. PCI-score, number of resections, operating time), major postoperative complications, quality of life, and cost-effectiveness. In the experimental arm, additional secondary endpoints are severe systemic therapy related toxicity and radiological/histological response to neoadjuvant systemic therapy. Blood and tissue is collected at pre-specified time points for future translational research.
Sample size: The phase II study includes 80 patients, with 40 patients in each arm. The expected 3-year overall survival in the control arm is 50%. We hypothesize that the experimental treatment results in a 15% increase in overall survival rate if analysed according to an intention-to-treat principle. With a 0.05 two-sided significance level, 80% power and a drop-out of 5%, a sample size of 179 patients in each arm is needed, resulting in a total of 358 patients, including the 80 patients from the phase II study.
Intervention
Control arm
Upfront cytoreductive surgery with HIPEC
Experimental arm
Perioperative systemic therapy and cytoreductive surgery with HIPEC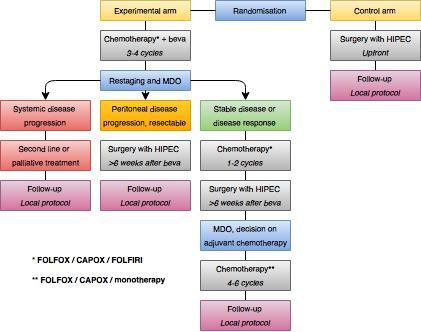 Participating centers
Antoni van Leeuwenhoek Ziekenhuis, Amsterdam
Catharina Ziekenhuis, Eindhoven
Erasmus Medisch Centrum, Rotterdam
Medisch Spectrum Twente, Enschede
Radboud Universitair Medisch Centrum, Nijmegen
St. Antonius Ziekenhuis, Nieuwegein
Universitair Medisch Centrum Groningen, Groningen
Universitair Medisch Centrum Utrecht, Utrecht
VU Medisch Centrum, Amsterdam